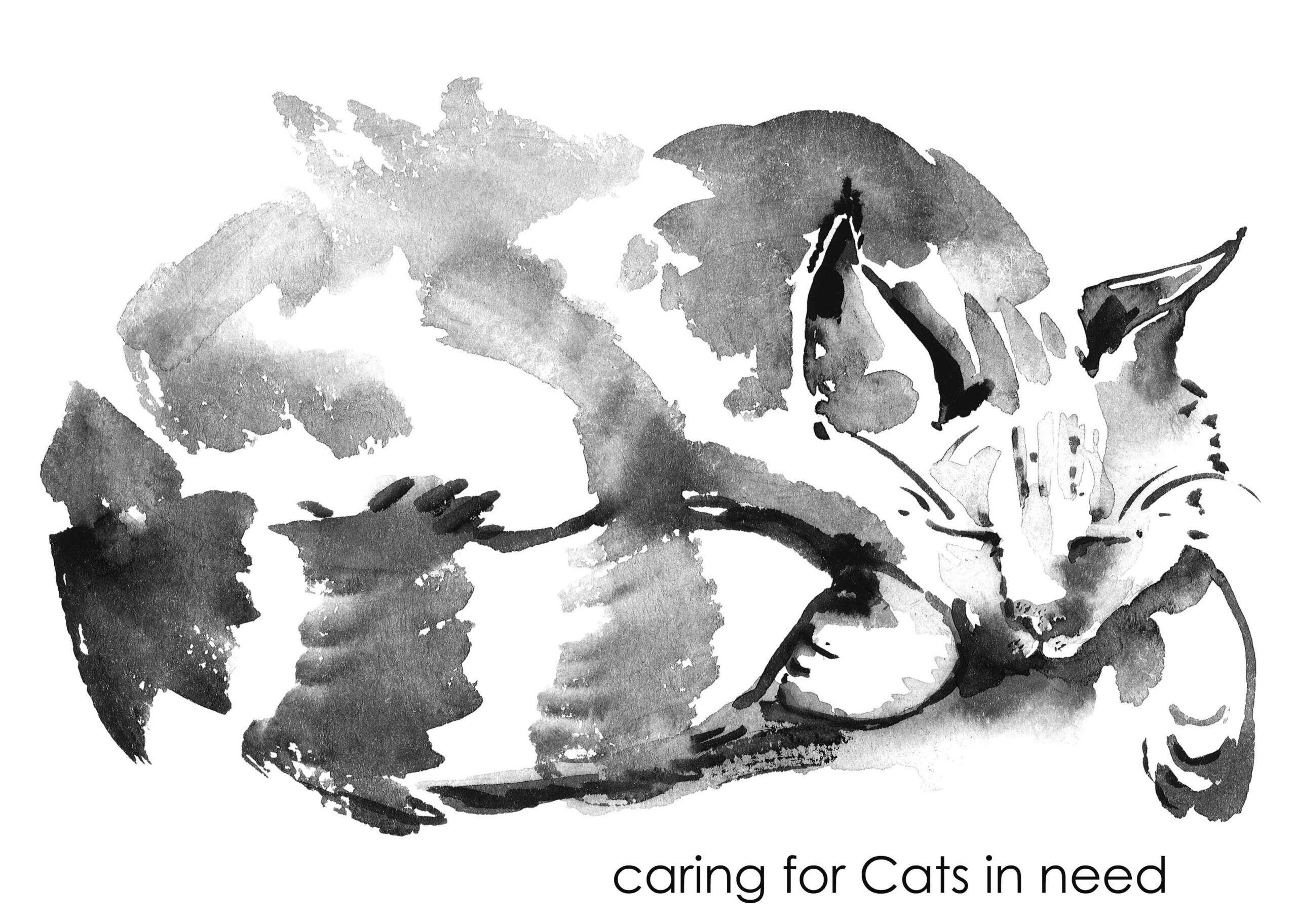 Cat Call Hastings, was an idea dreamt up and implemented by Dorothy Jayson in November 1983. The founding cornerstone of her idea was a Lost and Found Cat Register, where missing or found cats details could be registered and exposed to Dorothy's proactive approach to reunite them with their families. As the little organisation's reputation grew a network of foster homes was added where found cats could be temporarily homed until their original family was located or a permanent safe home found.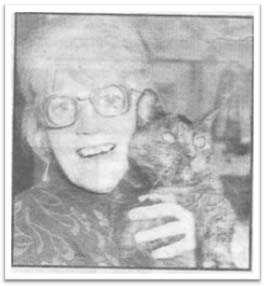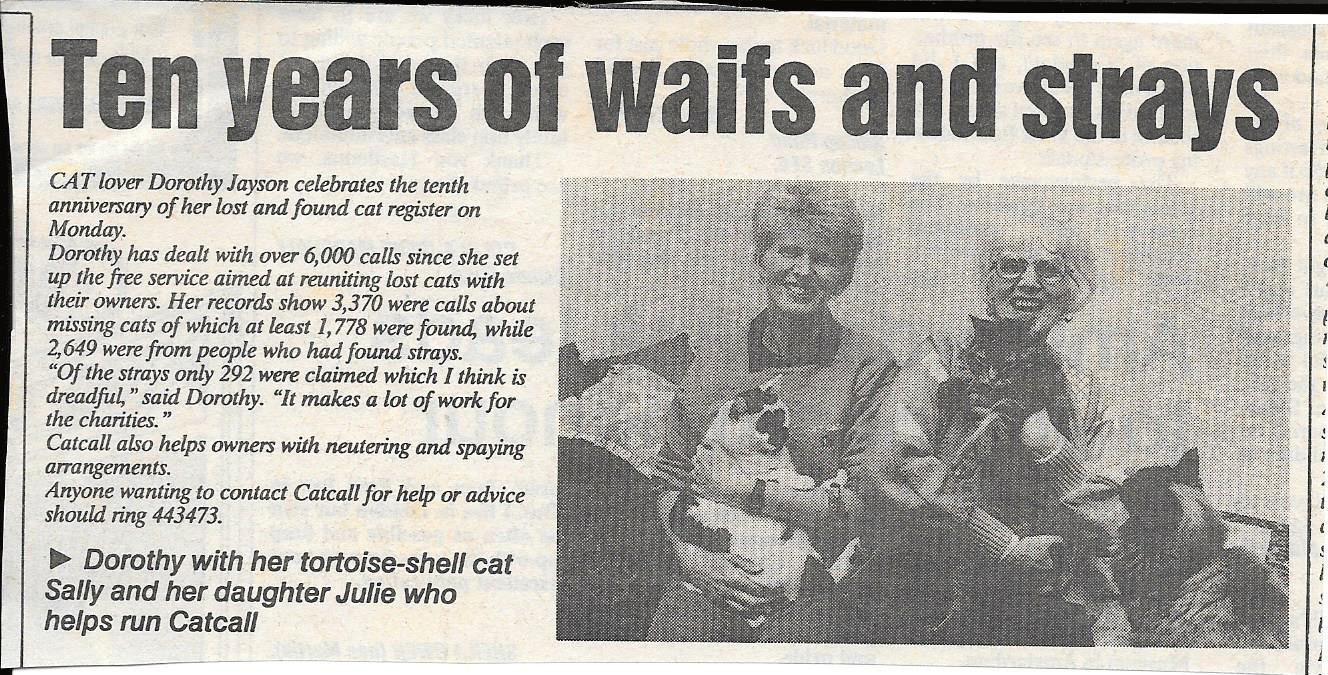 In January 1994 the organisation was formally registered as a UK charity and given the charity reference 1032117. Dorothy with the help of her daughter Julie and a growing network of volunteers established a cattery in Windmill Road Hastings complementing the foster home network.
In 2007 Dorothy passed away, Cat Call's work was continued with vigor and focus by Julie and the cattery moved to Brightling Road Hastings.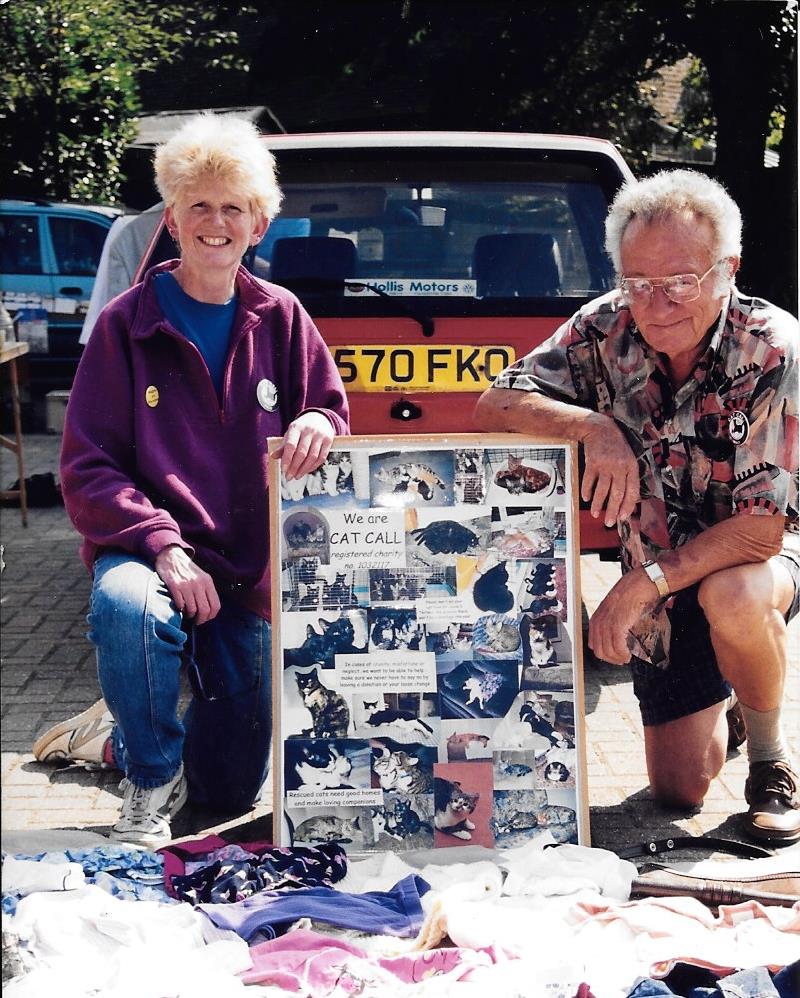 Julie sadly and suddenly passed away in November 2010, the volunteers at the time rallied round and between them managed to home the cats from the cattery which could no longer be sustained and was closed.
The organisation then went through a difficult period but throughout stayed true to its founding principles and objectives which are;
Operating the Hastings, St Leonard's, Bexhill and Battle area "LOST and FOUND Cat Register" putting lost Cats and Kittens back in touch with their families by maintaining a register and proactively working on and off line to reunite lost and found cats with their families.
Resources permitting, caring for cats in need. Rescued cats are given shelter and medical attention, when they are ready Cat Call looks for long term safe permanent homes. Some cats due to their circumstances see out their lives in Cat Call's care.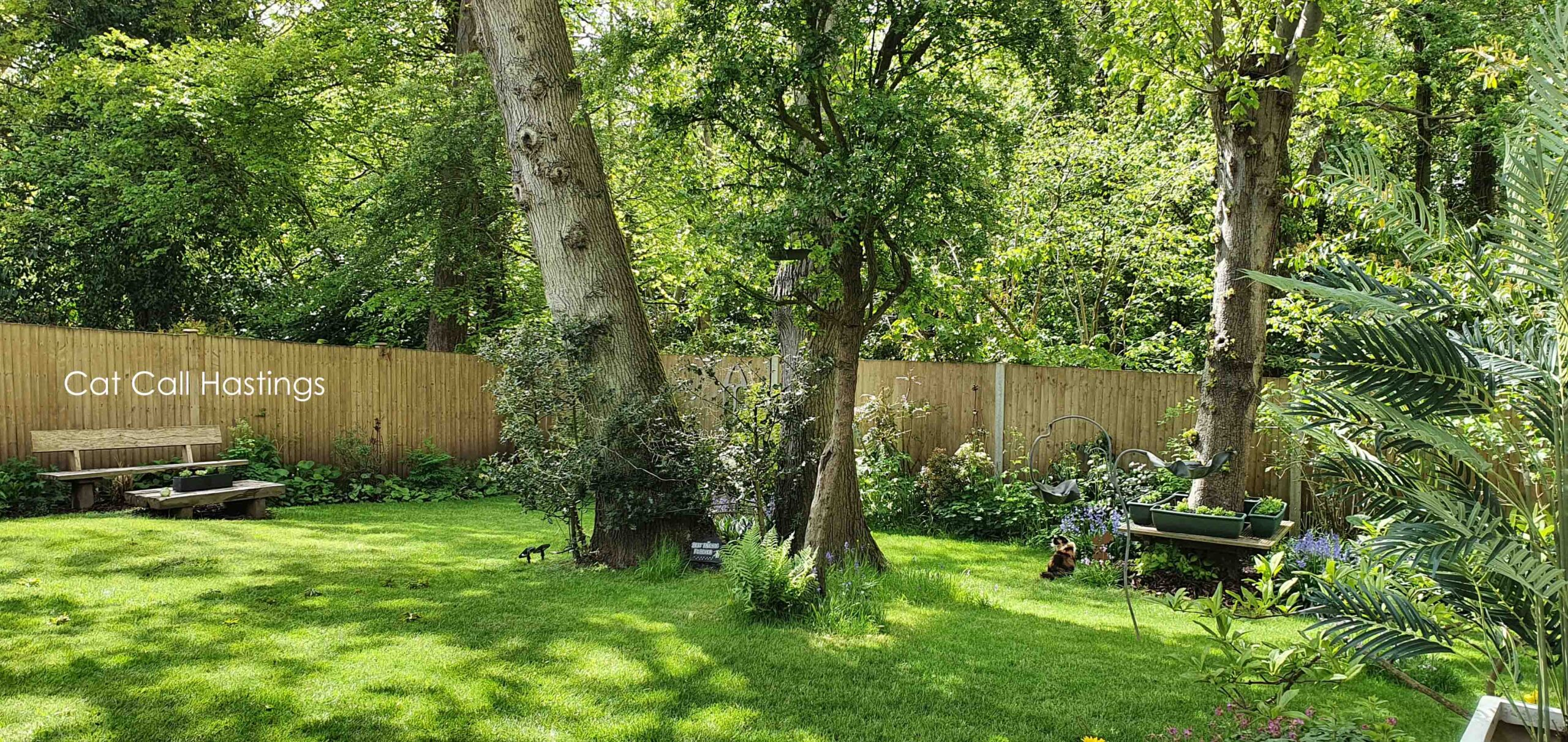 Cat Call no longer has a public cattery but has two sites where rescued cats who cannot be homed live which are further supported by its foster home network. Cat Call harbors the aspiration, when financially possible, of having a new rescue, medical and well being centre in Hastings.
Cat Call's primary costs are
Its monthly medical bill
General care costs for the Cats in its care; Cat food, litter etc
Cat Call telephone help line
Cat Call sets out to keep its overheads as low as possible so all money raised and donated is spent on cats in need. There are no personal expenses paid, no travel costs, no marketing costs, no admin costs, volunteers donate and cover these. Our charity shop pays for itself then the surplus contributes to the cat care work fund.
Money is raised through donations, fund raising events, on line sales and our Cat Call charity shop in Bohemia road St Leonards On Sea.
The organisation is led by two Trustees
Brenda Marshall – Charity Chair and Trustee Cat Welfare
Lorraine Shackel – Trustee Cat Welfare
supported by Leslie Jarvis who works on the finance and back end administration, Lyn Beardshaw charity shop Manager, Mia Ward and Sue Lavender who run our on line sales and Leeanne Wright who helps with identifying funding opportunities.
Cat Call is also supported by a fantastic group of volunteers and kind supporters including but not limited to; Its great charity shop team, talented knitters who make wonderful cat blankets, cat nip mice and beautiful knitted items which the organisation sells, people who have a green Cat Call donation pot for coins and some very supportive organisation's including Asda Hastings/St Leonards On Sea, ESK Warehouse Hastings, 1066 Vet practice, Badgers Oak Veterinary Clinic, St James Place Wealth Management.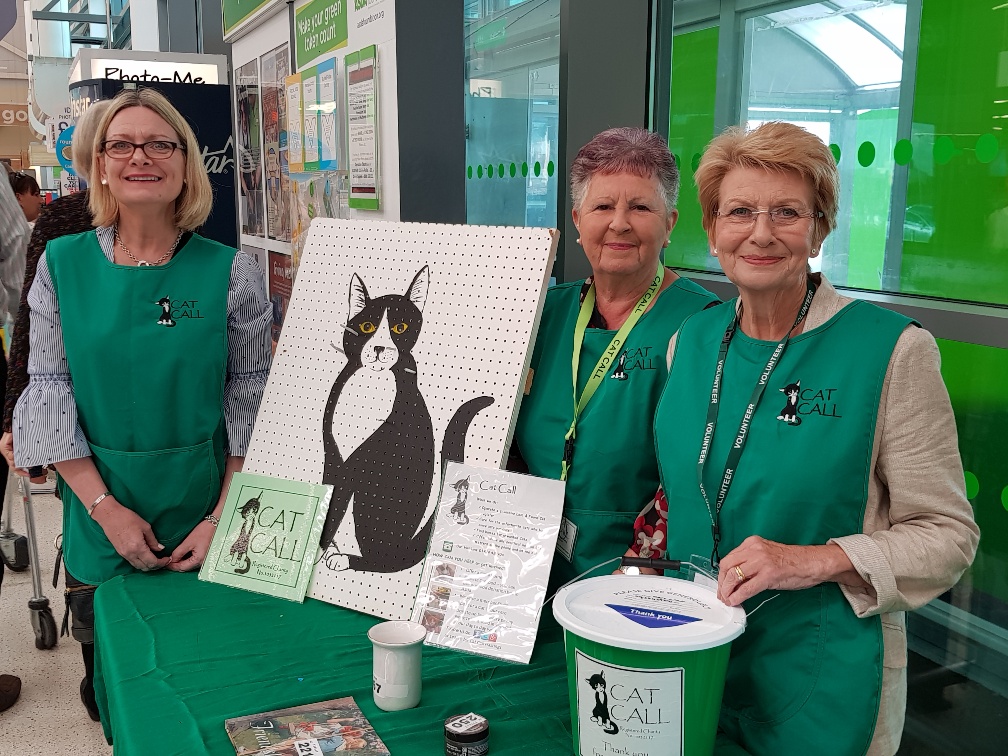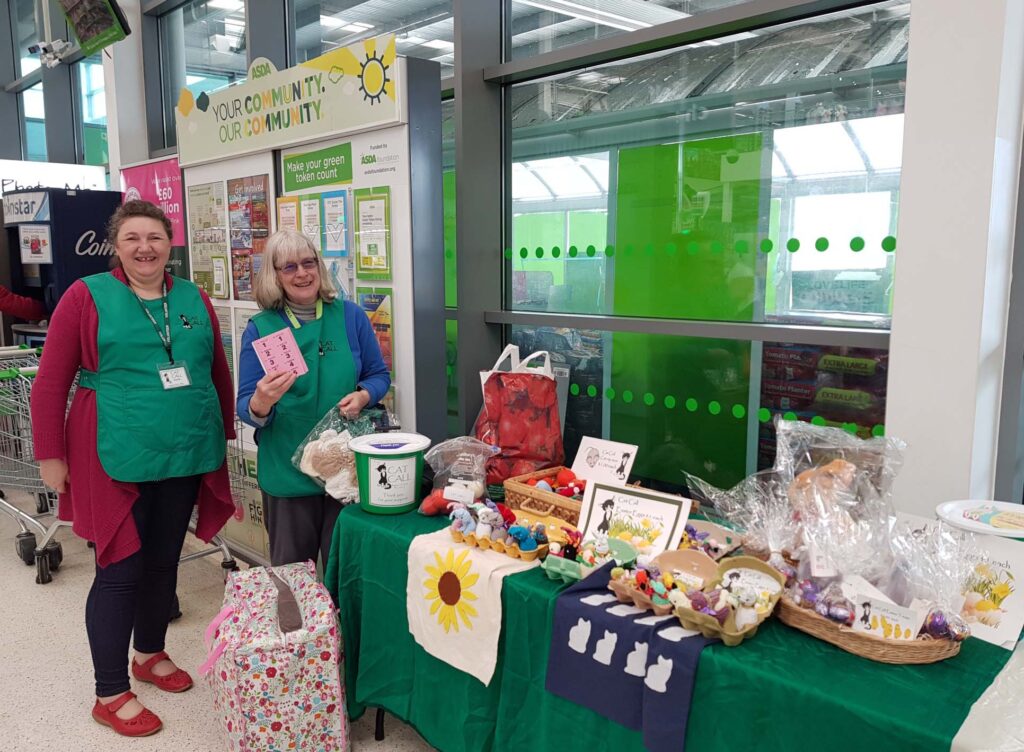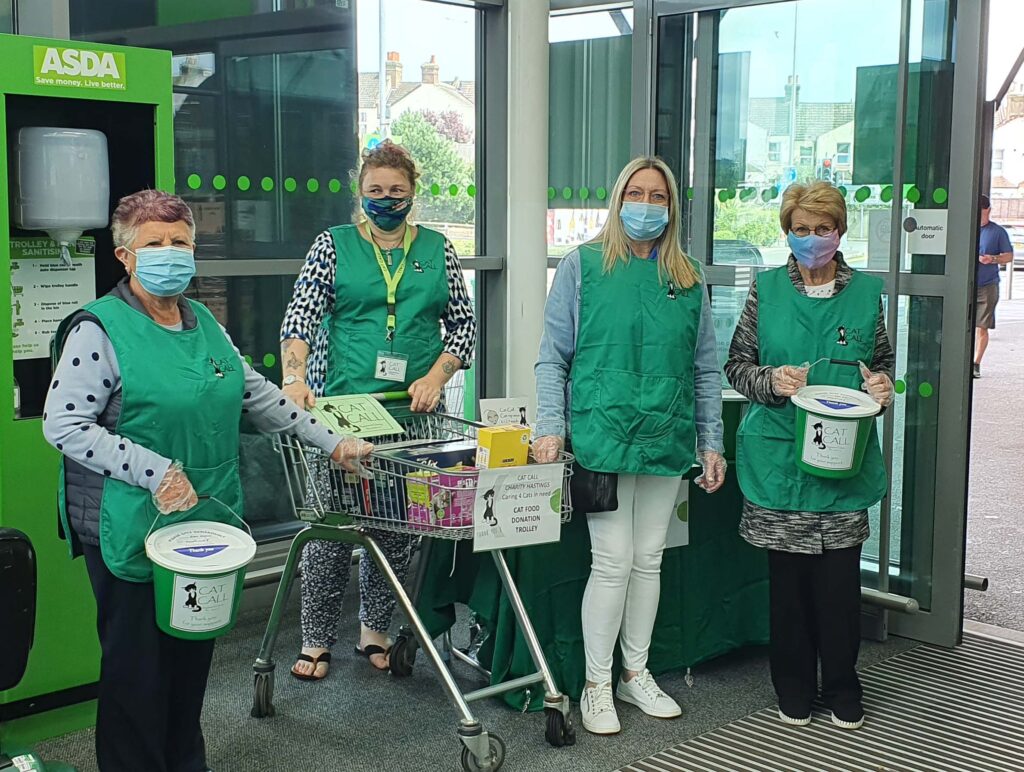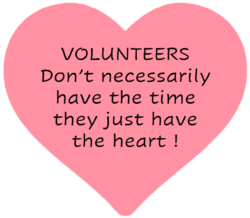 Cat Call's telephone help line is open 7 days a week 365 days a year from 9.30 to 21.00.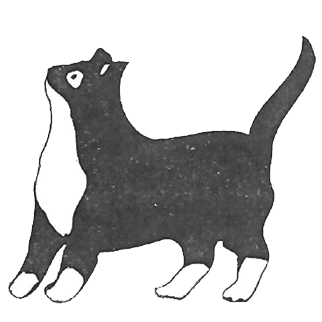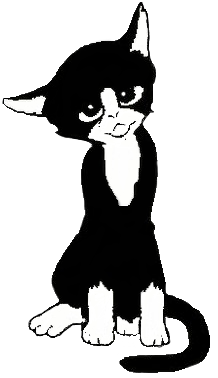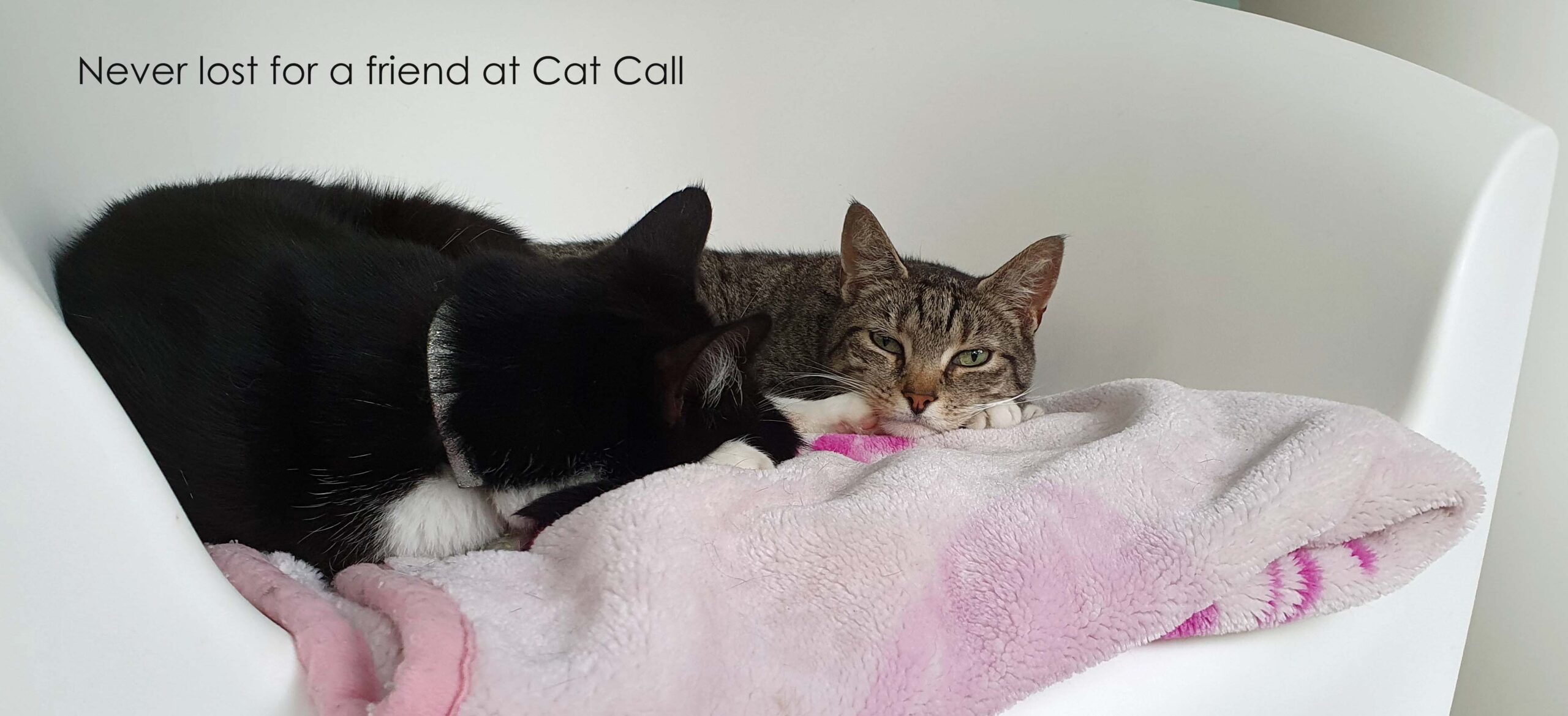 Cat Call is a registered UK charity registration number 1032117 and is subject to yearly scrutiny by the UK Charity Commission. It has proper checks and balances in place for the work it does with Cats, the advice it gives and your data.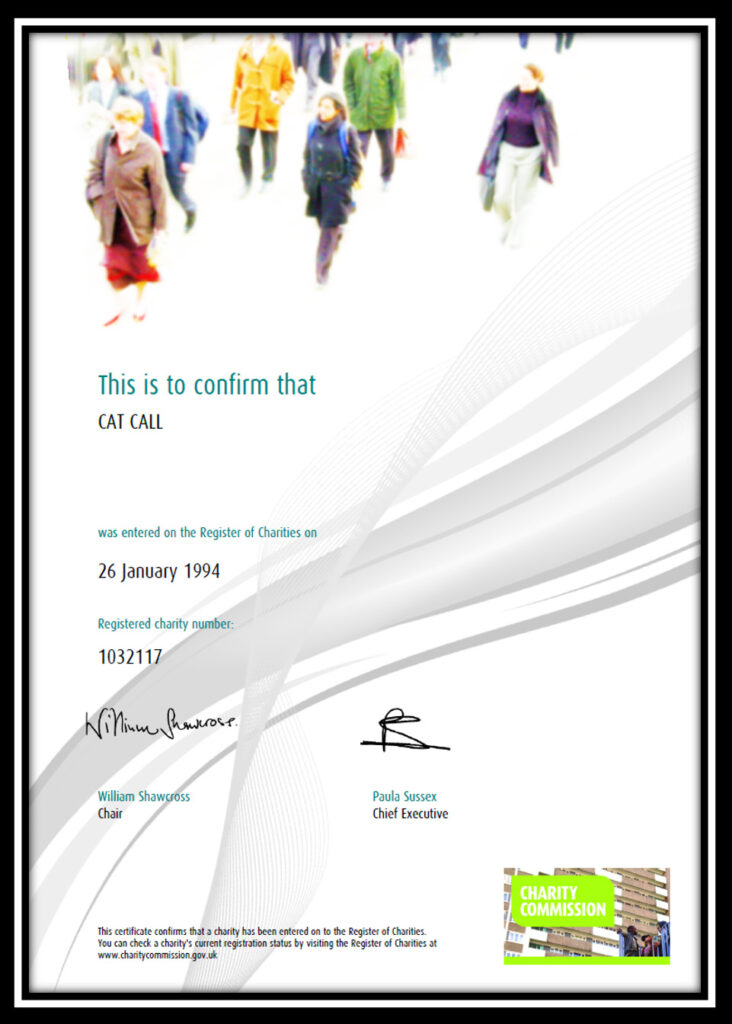 Cat Call's charity shop is located at
48 Bohemia Road
St Leonards On Sea, TN37 6RQ
Cat Call's registered Charity address is
164 Edmund Road
Hastings, TN35 5LQ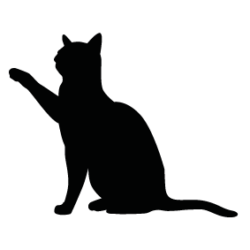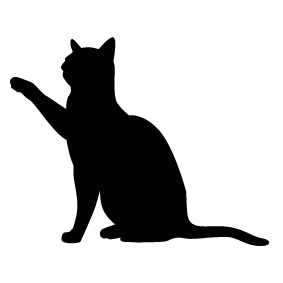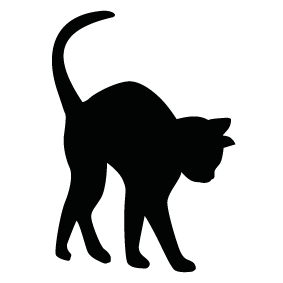 Cat Call can be contacted;
by telephone 01424 429904
e mail catcallcharity@outlook.com
and Facebook Click here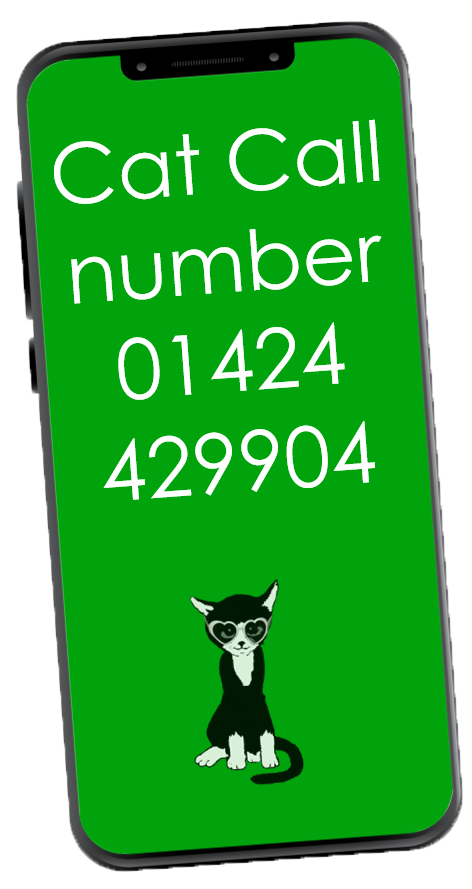 Cat Call is an all-inclusive Charity; Animals in particular pets have no innate prejudice, a Cat, a dog, a hamster, a bird they simply return love and care. The Cat Call charity is no different, as a charitable non-profit organisation it receives support from every part of the community, its volunteers are truly representative in all ways of Hastings and the surrounding area, it makes no distinction when it responds to a phone call for help through its 365 day a year telephone help line or a message online through its web site, e mail or social media platforms, it simply responds to the full extent of its resources and beliefs.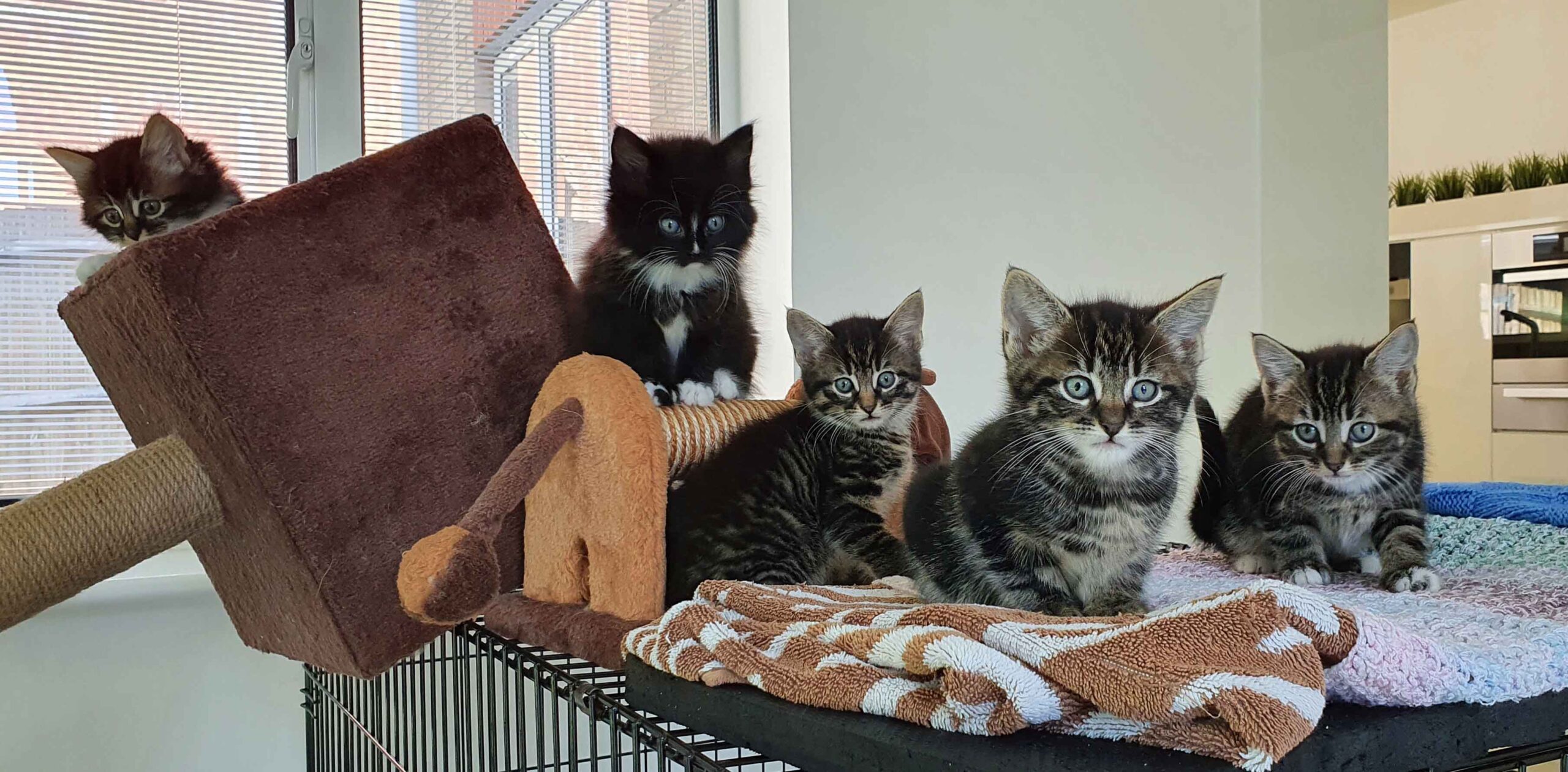 "Animals have a consciousness (feelings) and like humans need and deserve loving quality care in an empathetic environment"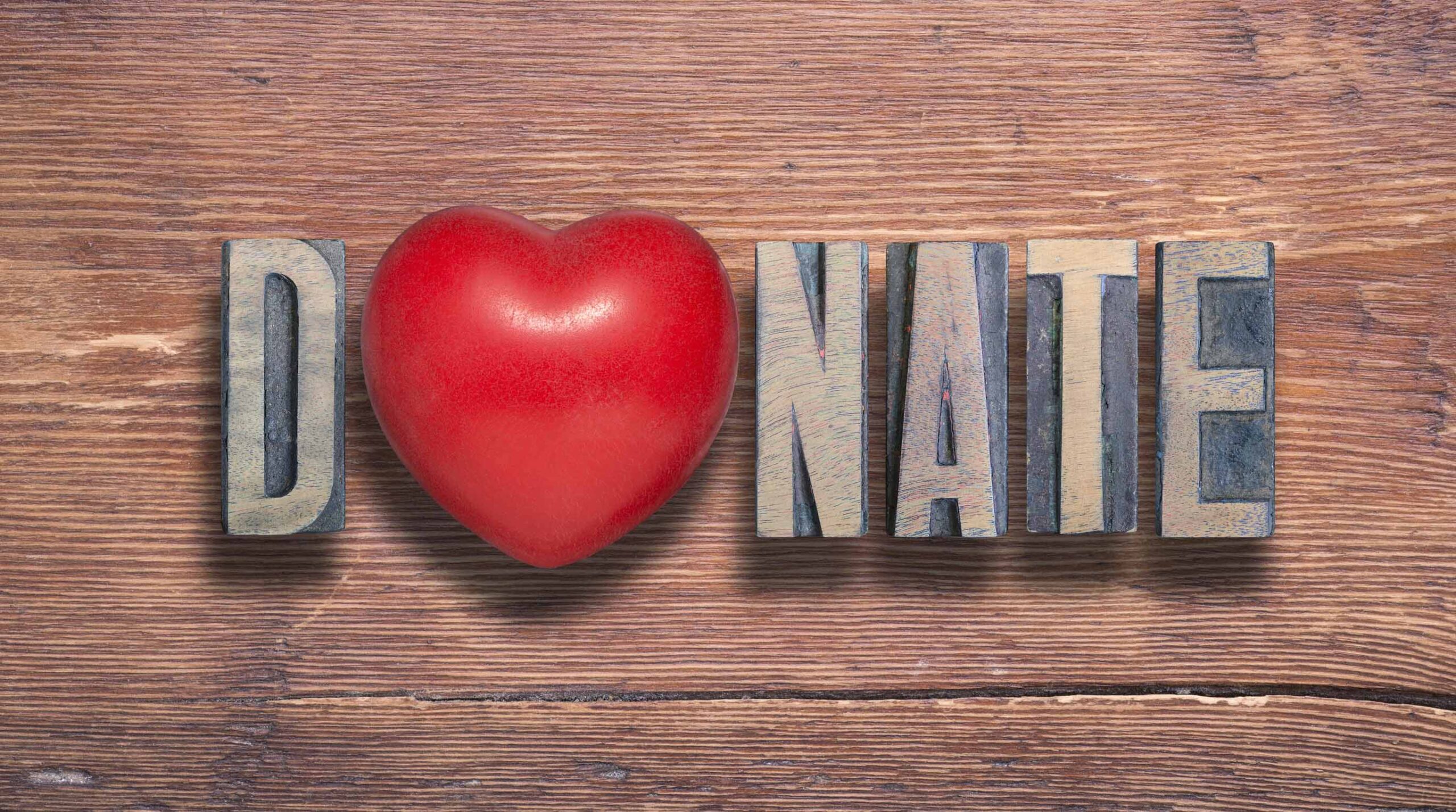 A little insight into our mentality and how we respect our supporters;
Cat Call does not use Cookies on its web site we do not track you when you visit us.
If you request your contact details published in support of finding your lost cat you are shown precisely what is published. Such posts are removed from the web site either when your cat is found or on request.
If you call Cat Call for help your telephone number is not retained unless you agree it is needed in helping you and that's the only reason it is used.
If you kindly donate to Cat Call you will receive a thank you e mail or letter. Cat Call will not keep pestering you for more money.
Cat Call will never pass, sell or share personal data with anyone or any other organisation.
If you would like to check the status of your information you think Cat Call might hold, update it or delete it please message Cat Call on catcallcharity@outlook.com.
To down load the full Cat Call privacy statement CLICK HERE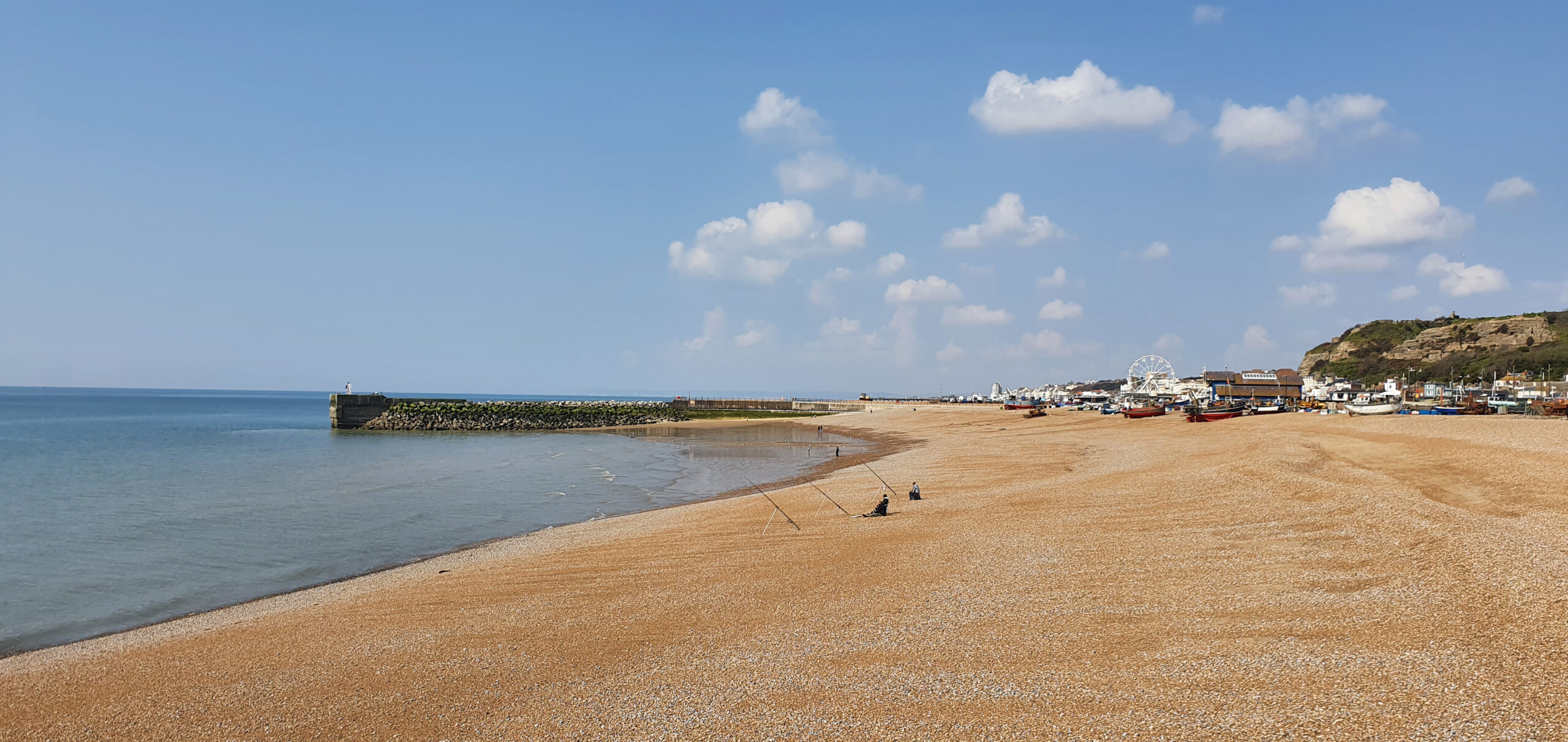 Picture of Hastings beach and the fishing fleet launch site click here to learn more